Where is the best place to invest in residential property in the UK?
Property investors in the UK have 69 cities to choose from (apparently), but Edinburgh looks like the best place to invest in residential property in the UK.
As anyone who has visited Edinburgh will know, it is an incredible capital City with a rich history and plenty of stories to tell – the emotional reasons to invest in Edinburgh are obvious, but how does Edinburgh compare when we look at the numbers? In this blog, we've analysed the data and trends and combined it with our experience to provide a comparison of how Edinburgh compares to other UK cities and UK cities 5-year forecasts – JLL Property Consultants offered their insights into capital and rental growth prospects for key UK cities over the next 5 years as follows;


JLL's predictions paint a very positive picture for all the key UK cities over the next 5 years with at least 16% capital growth and 15.5% rental growth.
Which city will perform best over the next 5 years?
To put each city to the test, we've assumed an investor buys a £150,000 valued property in each city in 2018 to assess the Return On Investment (ROI) over 5 years (we've calculated ROI as the return on the cash invested, taking into account rental profit and capital growth).

We've used a 6% gross rental yield initially (gross rental yield is calculated as total annual rental income/property value) and accounted for 10%+VAT annual management fees and a 5% annual maintenance spend. We've also assumed a standard Buy-To-Let mortgage Loan-To-Value (LTV) of 75% on an interest only mortgage (at 2% interest rate).
How do different cities compare?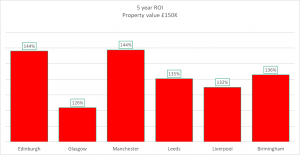 As shown in the chart above, there are two clear winners; Manchester and Edinburgh. An investment in a £150,000 property in either city would achieve a return on investment of 144% over a 5 year period (not accounting for personal/corporation tax). Putting that into context, £43,100 invested in a 1 bedroom flat in Edinburgh in 2018 would result in a return of £62,056 after 5 years. Including the original cash invested, this is a total cash value of £105,156.
We've chosen to look at property investments around the £150,000 mark as this is a popular level, allowing investors to buy great properties within walking distance of the city centre renting to professional tenants.
What else makes Edinburgh the best place to invest in residential property in the UK?
Edinburgh punches well above its weight as a global city. It is a thriving capital city, with a stable financial services industry, an emerging fintech sector, a highly-regarded, quickly-expanding, heavily-investing University and a booming tourism industry. It's a great place to be, deemed to be a 'dynamic city', with population expected to grow from 490,000 to 600,000 over the next 15 years.
So, where's the best place to invest in residential property in the UK?
JLL's forecasts are helpful in illustrating the best locations and it's clear that Edinburgh and Manchester are the two strongest markets over the next 5 years. However, Edinburgh's reputation as a thriving capital city and projected population growth makes it the best place to invest in residential property in the UK.