Citylets reliably produces a quarterly report highlighting what's been happening in the Scottish Private Rented Sector. Here are the key highlights for the Edinburgh lettings market from Citylets Q1 2018 Market report;
Scotland – Looking at Scotland as a whole, average rents rose 1.6% year-on-year (YOY) to £780pcm, helped by rental growth in Edinburgh and Glasgow but hindered somewhat by the recent downturn in the North East.
| | | | | |
| --- | --- | --- | --- | --- |
| Average Rent (pcm) | Rent Growth (YOY) | Rent Growth (5 years) | Time To Let (days) | Let within a week |
| £780 | 1.6% | 15.6% | 37 | 15% |
Edinburgh – Focusing on Edinburgh, our local market continues to perform strongly with an average rent 136% of the Scottish average and rental growth in the past 5 years almost double the national level. Time to let properties is 10 days less than wider Scottish time to let demonstrating the high demand for properties in Edinburgh (I expect we'll see the TTL of 27 days shorten further as we move into the summer months).
| | | | | |
| --- | --- | --- | --- | --- |
| Average Rent (pcm) | Rent Growth (YOY) | Rent Growth (5 years) | Time To Let (days) | Let within a week |
| £1,062 | 3.8% | 30.0% | 27 | 19% |
The following graph provides a good visual of rental growth in Edinburgh lettings for 1-4 bedroom properties over the past 5 years: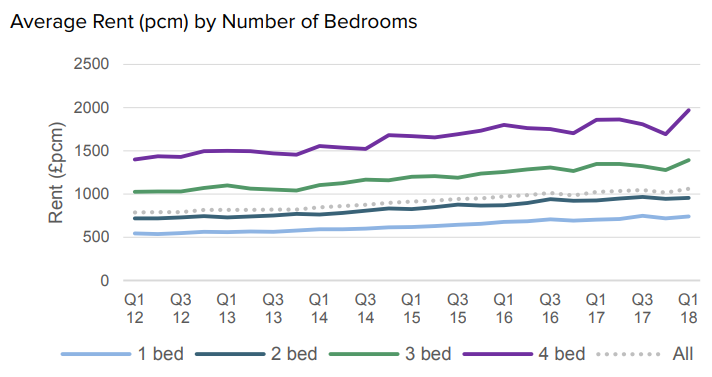 1 and 2 bedroom properties – We've seen increases for all property sizes with steady climbs for 1 and 2 bedroom properties. Rents for 1-bedroom properties has increased 5% YOY as competition for these properties remains fierce from professional tenants.
Student properties – After a traditional rental drop over the winter months for larger properties, there has been a steep upturn for 3 and 4-bedroom properties in the last quarter as agents advertise their student properties for the 2018-19 academic year. It will be interesting to see how this pattern of winter/Spring advertising of student properties changes in future years once Private Rented Tenancies are running. Agents will no longer be able to be certain as to whether students will be moving out the following summer and so may have to be more reactive each year when advertising student properties rather than advertising these 'in batch' early each year.
Edinburgh's letting market continues to grow, outperforming the rest of the Scottish market. There's still a huge shortage of new rental stock being added to the market and tenant demand continues to grow so we would expect rents to keep pushing upwards particularly as we move into the crazy summer months.