Stock levels high but no rise in 2 months
2021 is underway. It's not quite the flying start to the year we would have all liked as we're currently in the middle of Scotland's second national lockdown. The number of available rental properties on the Edinburgh market is at a record high for January.
This is not surprising given the stock levels at the end of 2020, however, the number of available properties have not changed significantly since November. Scotland went into lockdown 2 on the 26th December but the available stock level in Edinburgh has not changed, only rising by a net of 3 properties during that period (to 1,756 properties on Rightmove).
This is in stark contrast to lockdown 1 where the number of available rental properties in Edinburgh skyrocketed.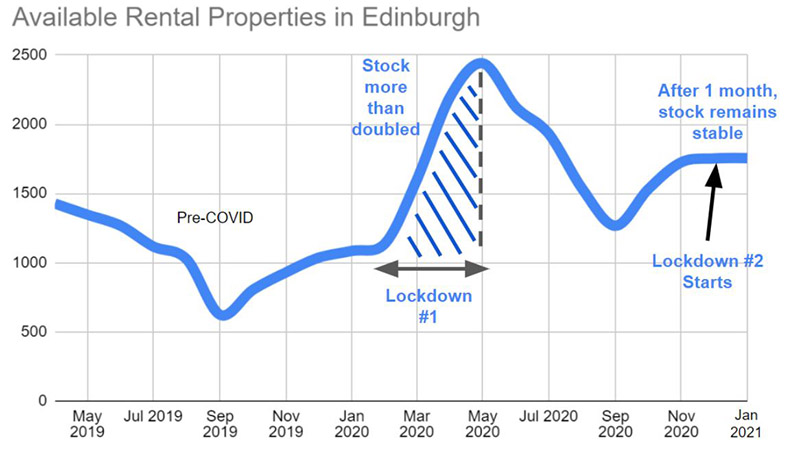 Why has the available stock level not changed over the last month?
Stock levels were already very high coming into this lockdown but it's encouraging that levels have not risen. Another encouraging statistic is the number of lets agreed in January; these were higher in 2021 than in 2020, despite lockdown. Moving home, and the activities associated with it, such as viewings, are allowed in this lockdown unlike lockdown 1 when only essential home moves were allowed.
The market has kept moving over the last month and the number of new properties added to the market has been matched by the number of new lets that have been agreed.
What will happen next?
We don't know yet when this lockdown will end but if we look to the end of lockdown 1 for clues, then we can expect the rental market to start moving much more rapidly, and the volumes of available stock should start to fall. Over the next few months, landlords can expect void periods to remain higher than normal as it takes slightly longer to let properties.
Rent levels will be lower than normal as the Edinburgh rental market adjusts to the high stock levels currently available.
It's going to be a fascinating few weeks as restrictions are slowly lifted and pent up demand helps the rental market catch up with Edinburgh's seasonal cycle. 
Whatever happens next, we are ready to respond accordingly.