There's plenty to feel good about if you've invested in Edinburgh property. The city continues to perform well on a global scale with our booming Universities, growing tech sector and fantastic quality of life helping to deliver 41.6% house price growth over the past 5 years (compared to 25.1% growth in Scotland).
Property consultant JLL made some bold predictions about house price and rental growth last year (Jan 2017) so we thought it was worth looking at the market's performance against these forecasts.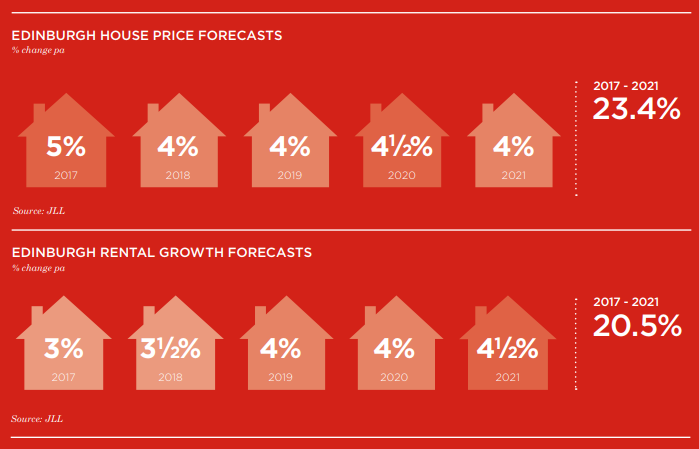 We were to expect a 5% increase in house prices and a 3% growth in rents throughout Edinburgh. So what ACTUALLY happened?
Scottish House Price growth outstrips rest of UK again – According to the Registrars of Scotland, House price growth in Scotland was 6.2% in the year to February 2018 while Edinburgh saw a whopping 11.2% annual growth with average house prices rising to £250,986 in the capital. This 11.2% growth has blown JLL's predictions out of the water. Great news for property investors in Edinburgh.
Squeeze on rental supply pushes rents upwards to record highs – We can always rely on Citylets to deliver reliable rental market stats. Rents in Edinburgh reached an all-time high at Q1 2018 standing at £1062 per month on average, up 3.8% year on year. This level is down from the crazy 5% annual growth we've seen in recent years, but Edinburgh property investors should still be happy with this more modest, yet strong, growth level. The main 1-4 bed markets recorded positive annual growth of between 3% and 6% and, on average this growth is a smidgen over the 3% JLL predicted so we're just ahead of schedule for their 5-year forecasts.

Things are looking good for property investment in Edinburgh. The rental market continues to remain healthy and there's no sign of this slowing as the supply of properties drops and the number of people looking to rent increases.
According to a new report by the Resolution Foundation, up to a third of millennials face renting their entire life. 40% of millennials (born between 1980 and 1996) are living in rented housing by the age of 30, twice as many as Generation X (those born between 1965 and 1980). The accountancy firm PwC predicts that as the price of owning a home rises, 7.2 million households will be in rented accommodation by 2025, compared with 5.4m now and 2.3m in 2001.
And if all that wasn't enough to convince you about the strength of Edinburgh's property investment market, here's one to seal the deal; Edinburgh now holds the prestigious title of the world's 32nd most Hipster City according to relocation specialist Movehub. This survey compared 446 global cities according to the concentration of five perceived 'hipster hangouts' in each city – coffee shops (of course), vegan cafes, tattoo parlours, record stores and vintage boutiques. "Today this group is generally understood to include young(ish) urban adults with tastes and fashion choices outside the cultural mainstream. If you call yourself a hipster, you probably ain't it. You need to have money to burn on flat whites, tattoos, vinyl and housing in some of the world's most over-subscribed neighbourhoods, none of which come cheap".
So, Edinburgh is officially 'hipster', the number of people looking to rent is climbing and property values and rents continue to rise to record levels. This all adds up to a fantastic opportunity for those looking to invest in Edinburgh property.