By taking a look at Rightmove residential sales activity for July we can shine a light on what's going on in the Edinburgh property sales market.
Consistently strong monthly sales agreed over the past 18 months

The number of sales agreed per month on Rightmove has fallen ever-so-slightly in July, but relatively speaking, sales agreed remain at a high level continuing the consistency of the past 18 months (ignoring the normal Christmas dip in activity). This shows there are still plenty of buyers out there looking to move.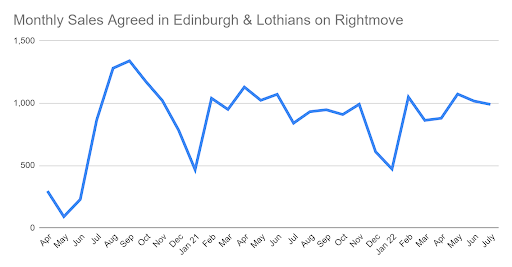 Available properties slowly-but-surely creeping upwards
This strong buyer demand and high monthly activity of sales agreed is not stopping the number of properties available to buy in Edinburgh & Lothians on Rightmove from creeping upwards slowly-but-surely. A welcome change after the worryingly low levels of stock  we saw over the winter months. This means that the supply of new properties going onto the market is now ahead of the number of properties being snapped up by buyers for the first time this year.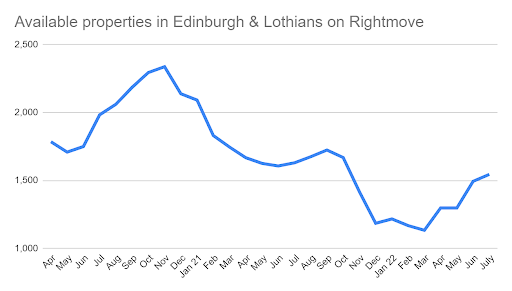 This growing number of properties on the market should come as good news for buyers, with more properties to choose from, slightly less intense competition for each property on the market which should ultimately lead to prices cooling a little. However, relatively speaking, stock levels still have some way to go before they reach 'healthy' levels and so we're still seeing good quality properties attract a high level of interest, leading to continued bidding wars and some 'crazy' prices paid by buyers.
What's ahead after the summer holidays?
There's often a bit of a pause in buyer demand over the summer months when house hunting is put on hold due to the summer holidays. So time will tell if the number of sales agreed each month picks up further as we move into August and September to slow down the increase in available properties on the market and to delay any significant cooling.
Looking for an agent to let your home?
 To get the ball rolling, carry out an instant, free valuation of your home here or contact our team on 0131 221 8289 to discuss what we can do for you and your home using our blend of market-leading property promotion and our award winning negotiation team.