We know that packing up to move can be a busy time. So much to organise, so much to clean.
What belongings are worth keeping? Why do I have so many coat hangers?
Suddenly, the number of possessions accumulated seems to have doubled, and the Marie Kondo tact seems much more appealing.  Does my chopping board really spark joy?
Don't worry, we're here to help and we've compiled a mini checklist, to help you get from A to B, stress free.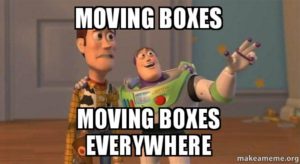 Marigolds time?
Before handing the keys back, it's time to get out the marigolds, call on Mr (and Mrs) Muscle, and make the place sparkle brighter than a disco ball at a 20s dance hall. When cleaning, there are a couple of spots people always forget; don't miss tops of cupboards,  skirting boards, ovens and be sure to pull furniture away from walls to hoover underneath/behind. Umega has each property professionally cleaned before our tenants move in, and they'll be compared to this standard when tenants move out. If in doubt, check the inventory – this will thoroughly describe (and provide photographs of) the standard of the property when it was handed over. It's worth running a fine tooth comb over the flat to ensure that the place is spic and span and we don't need to have it cleaned when tenants vacate (and the cost of this to be deducted from the deposit). For tenants who don't fancy taking on a thorough clean themselves, using a professional cleaner is a good idea to make sure the property is ready for the next set of tenants – we can recommend a couple so just ask!
Put your paparazzi skills to the test
When tenants move into properties they are accepting the condition of the property as outlined in the inventory. It's worth tenants taking photos of the property when they move in. This means that if there's a deposit dispute, the tenants will have photographic evidence relating to any claims/cleaning standards which can be submitted to the Tenancy Deposit Scheme.
Forget the bin, lets recycle. Win. Win
Not only is Sweden incredibly good at making tasty meatballs and being tall, they also lead the way in all things recycling and zero-waste. It's time we caught up. If there are items which haven't made the cut to move to the next pad, let's stop considering the bin as our first point of call. Items still in good condition could be donated to charity shops. Large items of furniture can be donated to places such as the Edinburgh Furniture Initiative, who will even pick up goods for free. Check out more about them on their webpage. As they say, one man's trash is another man's treasure. Not only would our tenants be reducing their waste, but helping charitable causes. Win. Win. Here is a helpful guide on how (and what) to recycle as you move out.
It's closing time for your gas/electricity accounts…
In the wise words of Semisonic, it's closing time. Tenants need to remember to contact the council and gas/electricity providers to inform them of their tenancy end date. It's the tenant's responsibility to provide up to date closing meter readings for gas/electricity providers to allow the supplier to calculate any outstanding cost and to send on a final bill. Whilst in admin mode, we recommend tenants change their address and redirect their mail to ensure no important mail is missed.
Should it stay or should it go?
Tenants should certainly not leave clutter around the property (especially leaving odds and ends in cupboards which can often lead to a deposit deduction if clearance companies need to come in to discard these) however if tenants have bought furniture for the flat, and don't want to take it on with them, it's worth asking if the landlord will be happy for the items to remain in the property, rather than be thrown away. You just never know and it's worth the question before exploring how best to throw out or pass on these items.