A Umega winner at the Aberdeen Standard Investments Real Estate Charity 5km Race!
Yesterday afternoon in Holyrood park, eight members of the Umega team took on the rest of Edinburgh's property world in the Aberdeen Standard Investments Real Estate Charity 5k race. There was a blustery wind and that hill anticlockwise from Holyrood up round Arthur Seat seemed steeper than ever, but the sun shone and a great afternoon was had.
We're super proud of each one of the team who represented Umega in matching purple t-shirts, sporting our charity partner, Edinburgh Children's Hospital's logo. We were delighted to see our Amy come in as 1st lady in an incredible time of 20 mins and 41 seconds and to see her awarded with a beautiful trophy, some running shop vouchers and a cuddle from Scottish Rugby international legend Scott Hastings (Queue the 'who is Scott Hastings' from the younger members of the team!) in front of 400 other runners.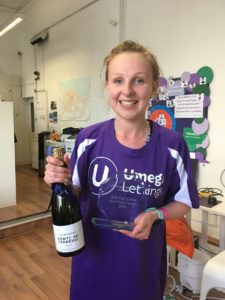 A special 'hurrah' to David, Emma and Eden who didn't let a guy dressed as a Minion beat them.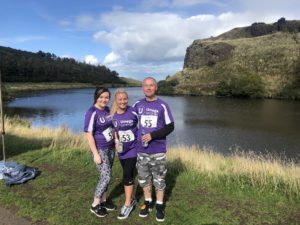 A big well done to the rest of the Umega team who manned the office during one of our busiest weeks of the year!
The event raised over £20,000 for the SAMH (Scottish Association for Mental Health) charity so well done to everyone involved from Aberdeen Standard Investments and thank you for a great afternoon. We'll see you next year and, until then, the Umega Monday Night Run Club will need to leave the comfort of the pan-flat-Meadows and start taking in the hills of Arthur Seat to get us ready for next year's race! ?