To help communicate to prospective clients the impact that better marketing and negotiation can have on the selling price of a property, we've done an analysis of sale prices in Quartermile this year comparing the sales Umega has handled with some other more traditional estate agencies.
What was our impact on selling price?
In January and February this year, we marketed two 2-bedroom apartments within modern blocks at Quartermile, both with direct views onto The Meadows –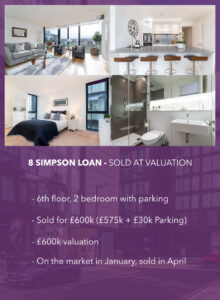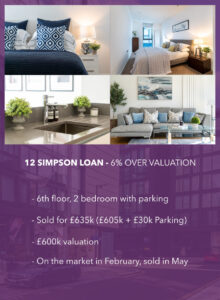 How do the more traditional agencies compare?
In January and February this year, two traditional Edinburgh estate agents were marketing Meadows facing 2 bedroom apartments, with similar floor areas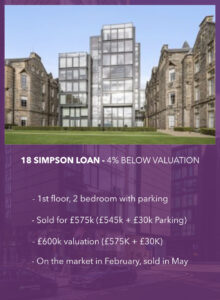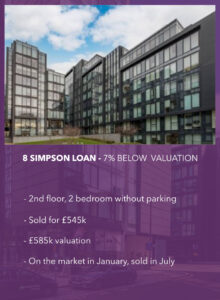 Ignoring car parking, which normally achieves £30,000 per space, both of the apartments sold by other agents sold for £545,000. Compare that with the two similar properties we sold around the same time, 8 sold for £30,000 (5.5%) more and 12 sold for £60,000 (11%) more. That's a big difference!
What's the difference?
There was very little between the 4 properties fundamentally. They had similar aspects, within similar blocks, with similar floor areas, however, the approach taken in the estate agency of the Umega two properties versus the other two estate agencies was quite different.
Attention to detail when preparing for sale

– The Umega estate agency team inspected each property looking for improvements to be made prior to marketing. Both properties were decorated, some repairs were carried out, clutter was cleared out and a deep cleaning took place so each apartment sparkled. We also arranged for our 3rd party property stager to

dress each property

for selling so that each looked their very best before the videographer and photographer visited and any viewings began.

High quality marketing – The Umega team spent time working closely with Nest Property Marketing to create high quality marketing visuals for advertising for each apartment. It was important that each apartment was captured at its very best, including incredible drone shots, aerial photography and very high quality internal shots of each apartment to make them stand out on the market. 
Top negotiation skills

– The Umega Edinburgh estate agency team looks to have direct conversations with buyers in the first instance. We find this approach is better for sellers and for buyers, having frank conversations before passing matters to solicitors when conversations tend to become a bit more cagey. In both occasions this approach helped us achieve the best possible price and avoided lengthy protracted exchanges. The feedback we received from both buyers was very positive relating to this more direct approach to negotiations.
We're the only Edinburgh estate agent with an office in Quartermile and combining this with our unique approach to preparing, marketing and negotiation we're the best choice of agent to sell homes at Quartermile. This approach is not limited to Quartermile and we've had incredible results for sellers all over Edinburgh and the Lothians, so if you're looking for an agent to sell your home contact our Edinburgh estate agency team. We're highly motivated to achieve the best possible price for your home, pushing our marketing, negotiation and communication well beyond that offered by traditional Edinburgh estate agents.