The COVID pandemic has hammered the business model of universities and the related service economies that rely on college and university campus life. We don't yet know to what extent student campus life will return post-COVID, but data published in Cushman & Wakefield's UK Student Accommodation Report 2020/21, relating to university student applications provides an interesting indication.
University applications for 2021 are at an all-time high
The latest figures published by UCAS show that there was a record number of applications received by the January deadline this year for students applying to study in the next academic year. This is an encouraging statistic for universities and the micro-economies that revolve around campus life.
Various factors, relating to a lack of alternatives for young people due to the COVID pandemic; including rising youth unemployment, gap year travels postponed and a difficult labour market, have contributed towards these record application numbers.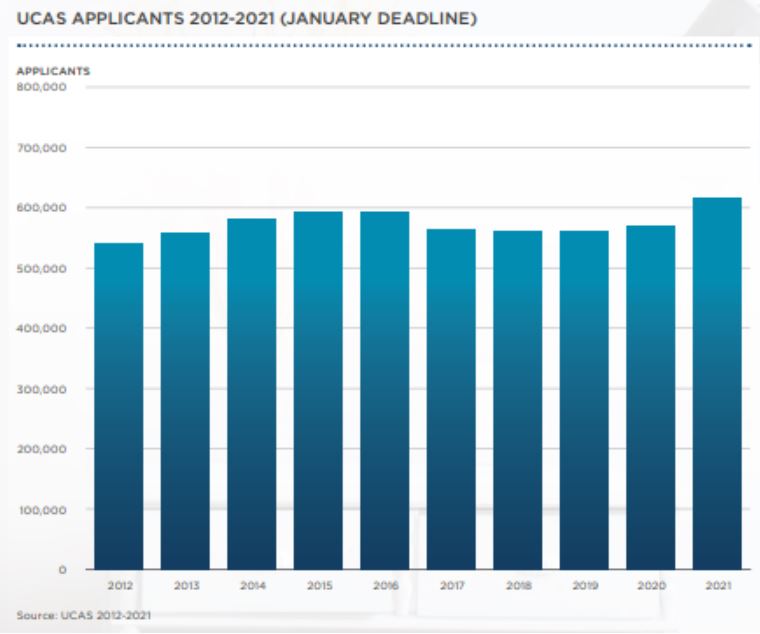 Numbers of Students in the UK have grown consistently over 5 years
When we consider the above UCAS data and a 14% growth in student numbers over the past 5 years, we can see that it's highly likely the upward trend in total student numbers is likely to continue, despite the disruption caused by the Coronavirus pandemic. Good news for universities and colleges.
International student demand
Demand from international students for UK University places continues to be strong due to the UK's reputation for quality education. While 2021 UCAS applications from EU students  dropped by 40%, applications from non-EU students increased 17%, with record rises from China, India and the US.
The Edinburgh Student Market
There were 2.02 million full-time students at UK Universities in 2019/2020 with 1.18 million of these studying at Universities outside of their home region. While the COVID Pandemic has forced many to study remotely over the past 12 months, student campus life will return and so demand for local accommodation will remain strong. 
Across the whole of the UK, the number of blocks of Purpose Built Student Accommodation (PBSA) is increasing significantly, but in Edinburgh, a lack of affordable space for developers and PBSA providers means they are unable to meet the high demand in prime locations. As a result, Edinburgh has more traditional properties with HMO licenses (Home of Multiple Occupancy) than any other city in the UK and the demand from Edinburgh's student population for HMO rental properties looks like it will continue to outweigh the supply in the market. This is good news for student landlords. For students, they will need to be as organised as ever about their accommodation arrangements heading in to the next academic year.