The Edinburgh buy to let market continues to perform strongly and rents and capital values continue to grow.
Edinburgh is the fastest selling property market in the UK – According to Zoopla properties in Edinburgh sell more quickly than anywhere else in the UK, taking on average 22 days to sell, 25 days quicker than the UK-average and less than half the time it take to sell a property in London (54 days). A shortage of supply and a huge demand for properties in Edinburgh has led to an average property value in October of £287,865. Scotland itself performs better than any other region in the UK with an average time of 38 days until a property is under offer (at an average price of £189,808).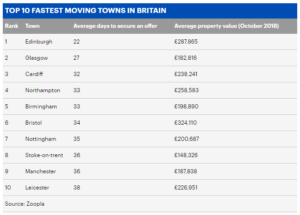 Tough times for first time buyers – These figures may make difficult reading for first-time buyers in Edinburgh. According to Warners, 1 in 10 properties are still selling for more than 15% of the home report valuation with 1 in 5 selling for more than 10% over valuation which makes life very difficult for first-time buyers as lenders will only offer mortgages up to the valuation amount. However, it does seem that things are cooling after a crazy 12 months which might offer opportunities for investors looking to snap up properties in Edinburgh.  In the 3 months from July-Sept 2018, the average premium paid over valuation was 5.3% (down from 6% for the same period in 2017), partly due to a 19% annual increase in the number of properties being listed for sale.
Hometrack, the UK cities house price index reports that Edinburgh saw a 5.7% growth year-on-year to August 2018 against a UK average of 3.6%.
Rents continue to rise – Citylets have just released their Quarterly market update for Q3 2018 and report the average Edinburgh rent has now reached an all time high of £1,107pcm up 5.6% in the past year. That's 32 consecutive quarters of positive annual rental growth with the majority of Edinburgh properties letting within 1 month (76% of properties). The 4 bedroom market has seen the biggest change in rent with average rents up 10.8% on Q3 2017 to just over £2,000pcm.

Edinburgh continues to be a fantastic place for buy to let investment with good capital growth and rental growth. The current reduction in sale prices achieved over valuation offers an opportunity for buy to let investors looking to secure a property in Edinburgh as move into the traditionally quieter winter months. For more information on the best buy to let locations in Edinburgh to focus on, keep an eye on our blog or contact our office and we'll share some recent success stories and our opinion on the best locations to invest in, in Edinburgh.