Reduction in properties available to-let
The Edinburgh rental market currently has a lower number of available properties to rent than at the same time last year. This is ominous for home-hunting tenants and policy makers as it appears that this year is going to be an even tougher year on the rental market for prospective tenants than last year. To recap; summer 2022 was as close as the Edinburgh private rental sector (PRS) had come to failing as there were nowhere near enough properties for tenants to rent. 
Problems caused by over a decade of undersupply of new housing (i.e. not building enough new homes) has been exacerbated in the PRS by policy decisions that have significantly reduced the number of new rental properties coming into the market. Rising interest rates have made becoming a first time buyer more expensive than ever, meaning more people need to rent, and for longer, than in previous decades. This has significantly reduced the number of properties becoming available for "relet". The result; record low levels of available properties.
At the end of March, there were 507 properties available to-let on the Edinburgh market on Rightmove, compared to 625 in March last year. The number of properties advertised to-let in Edinburgh throughout the first 3 months of the year is down more than 10% on last year demonstrating the problem with available stock.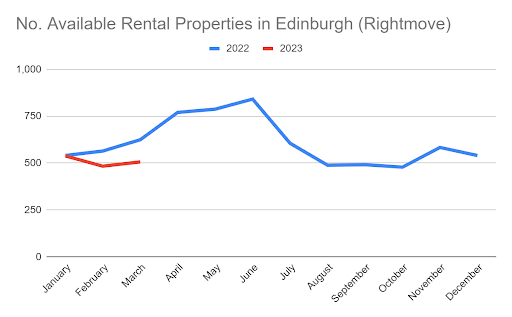 Is the PRS shrinking?
Nobody really knows. 
Of all the data available, the number of deposits lodged with the tenancy deposit scheme providers is probably the most reliable measure. This figure shows a small increase but there could be other reasons why the number of deposits lodged has increased, it's not necessarily because more properties have come into the sector. Our guess is that the overall size of the PRS remains the same but the number of people who need to live in it is growing.
Widening gap between supply and demand

We are certain that the gap between the number of tenants looking for a home and the number of homes available is growing. That's a problem for all stakeholders in the sector. Due to the supply and demand gap, rents are rising (albeit at a lower rate than inflation) and the Scottish Government appears fixated on introducing further rent controls. By doing so, they will reduce the supply of future properties into the PRS making the conditions worse that have led to rising rents in the first place.
It's a fascinating and concerning time in the PRS and we'll see what happens through the rest of the year. The way things are headed, there are going to be less properties available for home-hunting tenants to let than ever before.