A healthy sales market so far in 2023
Over the course of 2022, the number of properties on the sales market in Edinburgh increased steadily, towards healthier levels. Many expected stock levels to continue to grow into 2023 as homes would be listed but buyers would be thin on the ground due to the economic climate. Looking at Rightmove data for 2023 so far, however, it's clear that this has not been the case.
Stock levels holding – A sign of a healthier sales market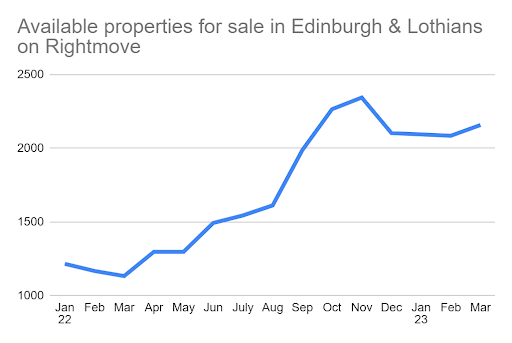 For-sale stock levels have remained fairly static so far in 2023 at more than double the number of properties than the same time in 2022. This is great news for buyers as there is more choice on the market.
20% more properties added to the market than a year ago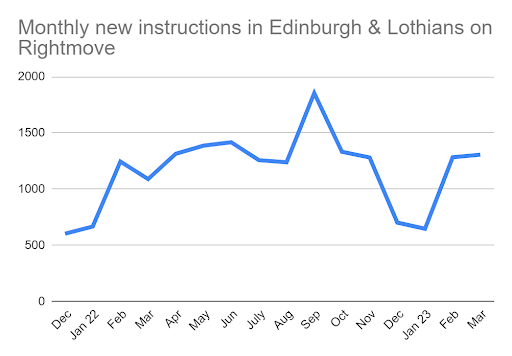 Rightmove data shows that properties being added to the sales market for-sale have bounced back after the seasonal December/January fall and now sit 20% higher than the number of new listings recorded in March 2022.
Matched by a healthy level of properties going under offer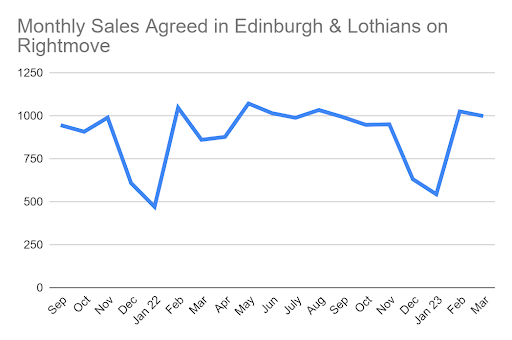 The number of sales agreed each month has increased sharply since January. Comparing March 2023 to March 2022, 16% more properties went under offer this year.
With a healthy number of new instructions being added to the Edinburgh sales market each month,  along with an encouraging number of monthly sales agreed, for-sale stock levels are being maintained and the Edinburgh sales market appears in good shape going into the spring. This is good news for buyers with plenty of choice as they search for their new home, while also being encouraging for sellers as the data clearly demonstrates that there are buyers looking to move this year.