Citylets' quarterly report for Q2 2020 (April-June 2020) is out now and, of course, the picture throughout Scotland has been largely affected by the Covid-19 pandemic. Here are some highlights on the Edinburgh rental market.
Sudden increase in supply
The rental market saw a steep rise in the number of properties available to rent during Q2; a function of tenants serving notice earlier than anticipated (many of these students vacating when lockdown hit and our Universities closed their doors) and additional stock coming onto the market from the short term rental market.
Average Stock levels Q1 & Q2 2020 (by week)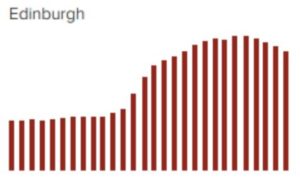 This wave of properties started to drop rapidly from early June coinciding with more tenants making plans (remotely) for a house move, securing new tenancies in anticipation of restrictions being relaxed.
Edinburgh rents fall for the first time in over 10 years
Edinburgh rents dropped by 0.9% year on year with the largest fall in rents for larger properties. This was fuelled by a rise of student properties (3+ bedrooms) onto the rental market. 

This drop in average rent, and the corresponding high average Time To Let recording during Q2, are a consequence of the sudden supply-demand shift illustrated by the upward curve in the chart above. However we're already seeing the trend moving back towards a pre-Covid levels as the number of available properties to rent continues to rapidly fall.