2022 starts with record low levels of available properties
What a difference a year makes in the Edinburgh rental market. One year on from being in the midst of a 4 month lockdown, the number of available rental properties in Edinburgh has dropped dramatically. Compared to this time last year, available rental stock is down 70%.
This has had the effect of rent levels increasing as prospective tenants are in a significantly more competitive situation for the scarcer number of available properties.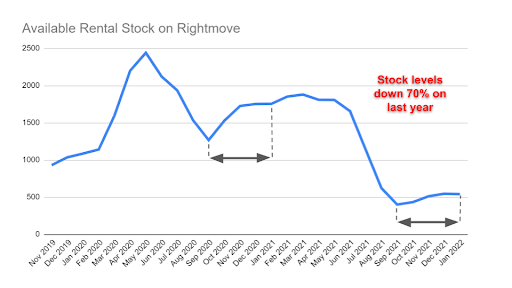 Properties being snapped up due to scarcity of supply

Ask anyone who has been house hunting in the rental sector over the last 9 months and they'll tell you how tough it has been to secure a new tenancy and how fast new properties have been rented. According to Citylets market data, the average length of time a property is on the market has dropped from 46 days a year ago to only 10 days currently. This is due to the scarcity of available stock that has also driven up asking rents in Edinburgh by almost 10% to a current average of £1,191 a month.
Looks like a competitive year ahead

Starting the year with record low levels of available stock indicates a tough year ahead for prospective tenants. The sales market is booming which is encouraging many landlords to sell their properties. 
Our prediction is that the volume of available rental stock will gradually increase into the summer. This will slow things down slightly, but not significantly. Stock levels will continue to be lower than previous years. This means time-to-lets will continue to be fast and rent levels will continue to rise, albeit not to the same extent as over the last 9 months.
If you have a property that you are considering renting out, then please do. The Edinburgh rental sector is badly in need of more properties. Becoming a landlord is a fantastic and low-risk way to turn your investment into a quality home.