Since August last year, the Edinburgh rental market has been suffering from a lack of available rental properties as demand from tenants has remained high. Over the winter, the market has continued to move quickly, not usually the case, but the spring market this year is a story of low numbers of available properties and record demand.
Available stock is up slightly
The month of April has seen volumes start to rise on the rental market again. This is due to the number of student lets that have come on to the market in the last month ahead of agreeing lets for the next academic student year.
Tough market conditions for tenants
From our viewpoint, it looks like it's going to be a tough year to be a prospective tenant looking for a quality property and, consequently, it's a very good time to be a landlord with a property on the market. The reason for this is that levels of available rental properties in Edinburgh are sitting at a very low number for this stage of the year especially when we take into account that we expect the number of available properties on the market to reduce as we go into the summer. April has ended with only 770 available rental properties on Rightmove which is very low compared to recent years.
Why are there so few properties on the market?
There are many reasons why stock levels are down this year, probably the most significant is the heated sales market where most prospective landlords faced with a choice of selling or renting, are choosing to sell. We expect the sales market to cool later in the year which should see some more rental properties coming to the market. New rules being introduced later this year for holiday lets in Edinburgh will hopefully bring a few more landlords to the market to help with the much needed lack of supply of quality rental properties.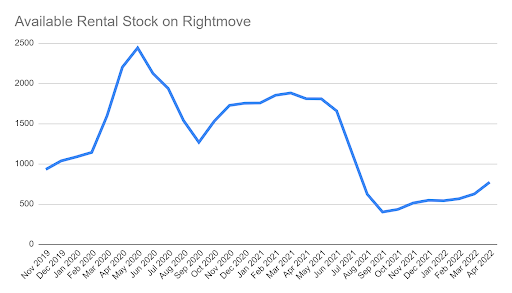 If you are a property owner thinking about providing a rental home in Edinburgh, there's never been a time when rental properties have been needed more. To find out more information, drop us a line today and we'll be happy to talk you through what's involved.