The Edinburgh sales market is so hot right now!
Monthly home sales agreed holds steady
Looking at stats from Rightmove, monthly sales agreed are holding steady and have been since this time last year, ignoring the normal winter dip in November & December. Estate Agents across Edinburgh have reported high levels of buyer demand, suggesting that monthly sales agreed could be higher; only being restricted by the low number of homes hitting the market.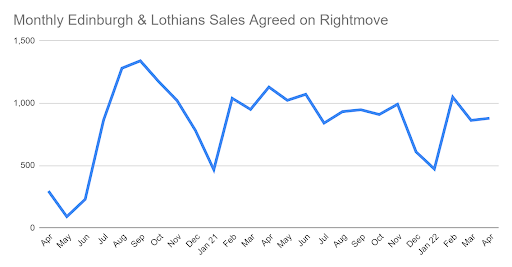 Available properties starting to climb, marginally
Focusing on the number of available homes listed on Rightmove, this dipped over the winter months to unusually low levels but has picked up marginally in April, with a slight increase in the number of properties on the market for desperate buyers to view and offer on. With so little homes for sale it's no wonder there's so much heat in the market. We don't expect the number of available homes to climb much further in May and June as any homes added to the market will be snapped up quickly by eager buyers.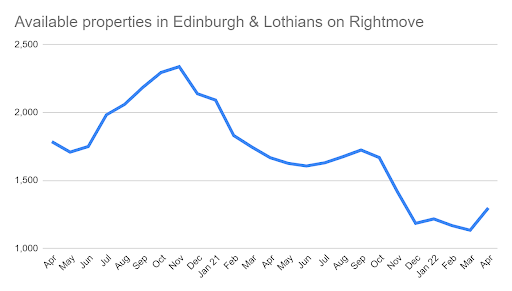 Homes going under offer with a week across the city
The average time for homes to go under offer across Edinburgh was reported at 21 days by ESPC in April. Looking at our own results at Umega Estate Agents over the past month, we've seen homes go under offer in record times. These include; a 3 bedroom apartment at Roseburn Maltings going under offer in 6 days, a 2 bedroom apartment in Newington going under offer in 5 days, an HMO in Bruntsfield going under offer in 11 days and a 2 bedroom apartment in Quartermile going under offer in just 4 days.
It's a great time to sell your home
With such a low level of homes on the market and monthly sales achieved holding strongly it's a great market for sellers. The imbalance between high buyer demand and low available homes means a greater chance of competition from buyers and so multiple offers and fast selling times.
Umega Estate Agents is an award-winning Edinburgh estate agent and letting agent and we take property marketing to new levels; working hard to showcase homes at their best. If you're looking to sell your home in Edinburgh or the Lothians please get in touch with our Edinburgh estate agency team today!