November Edinburgh rental market update
Since our last update, the rental market in Edinburgh has continued to experience a lack of supply compared to the high tenant demand across the city, but there are signs of things starting to stabilise as we head into the winter months.
Available stock levels appear to have bottomed out
Reviewing Rightmove data up to the end of October, the number of available properties on the rental market seems to have bottomed out after 5 months of steep decline.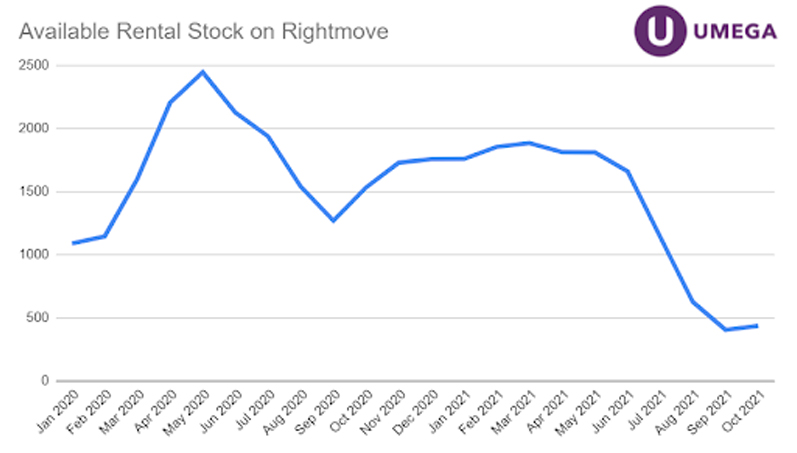 Available stock levels are still well below normal levels for this time of year. We would expect the number of properties on the market to grow over the winter months now that students have settled for the academic year and the number of properties added to the market starts to overtake the number of new tenancies being agreed. As to how much available stock levels might increase, we'll have to wait and see. Anecdotally, we are still speaking to frustrated flat hunters on a daily basis who just can't find somewhere to rent as properties are renting so quickly so it could be that stock levels remain lower for longer. Reviewing our own enquiry levels, 82% of all phone calls we received mid-September were from flat hunters looking to secure a viewing or make an application for one of our available properties; many of those confused or concerned about the current lack of availability on the market.
Average rents in Edinburgh reach record high
Citylets Quarterly Report for Q3 2021 offers more insights into the challenging situation tenants are faced with. 

The average Time to Let (TTL) to rent a property in Edinburgh is now 16 days less than it was this time a year ago resulting in average rents across Edinburgh increasing by 1.6% year on year after a period of decreasing rents across the city over the last 12 months. 1 and 2 bedroom rents are still slightly down from where they were a year ago but average rents are lifted by the strength of the 3 and 4 bedroom market fuelled largely by students returning to the city.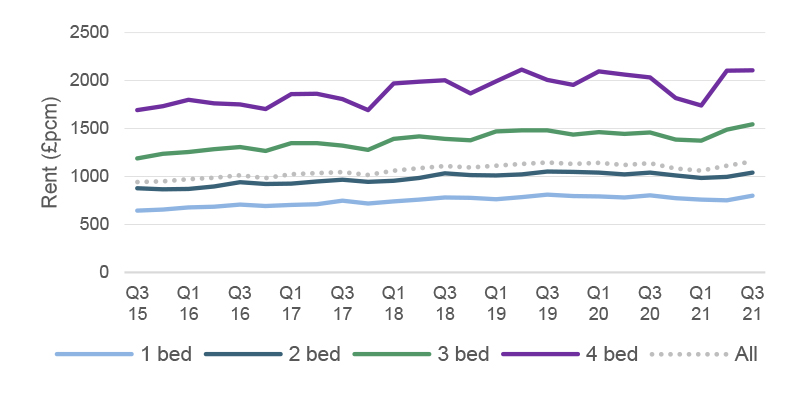 We'll be watching available stock levels closely over the winter months to see whether levels can rise enough to satisfy the incredible demand we've been experiencing. Early signs are that rents will continue to climb from their current historic high of £1,157/month, with rents for 1 and 2 beds expected to contribute, returning to year on year rental growth.
More rental homes needed
There can be no doubt that more rental properties are needed in Edinburgh to satisfy a swell of tenant demand and it appears that the problem is being exacerbated year on year as more people enter, or are unable to move on from, the Private Rented Sector.