Is it just us or is the picture of available rental stock across Edinburgh over the past 2 years starting to look a lot like the landscape profile of Arthur Seat?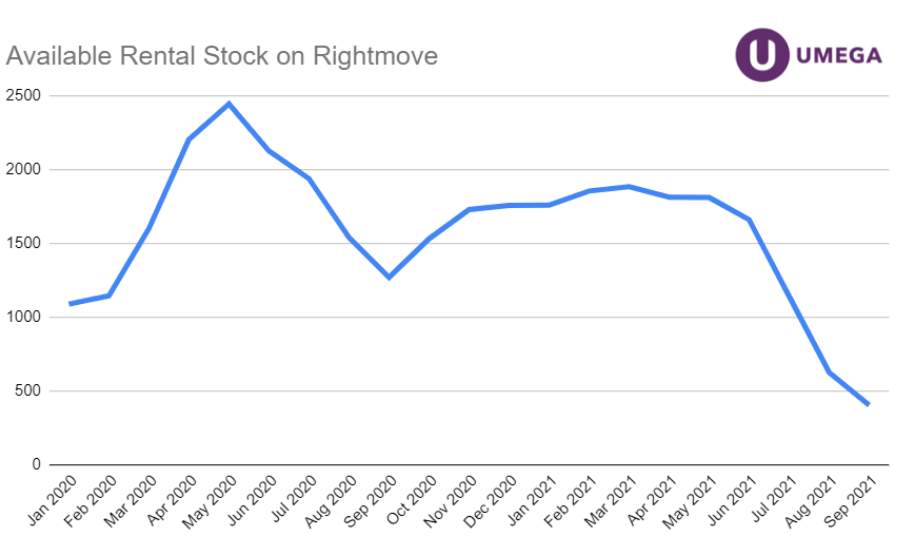 The speed of recovery has been surprising
While we expected the demand for rental property to recover quickly once students came back to the city, we did not expect such a quick turnaround. Demand for quality rental properties from prospective tenants has risen so quickly that the number of available properties on the market has plummeted over the last 5 months down to record low levels.
Available Stock levels 1/5th of the lockdown peak
Looking at Rightmove data, there's been a dramatic drop in available rental stock since June this year when letting activity around the city rose and, significantly, students returned to the city. Available stock levels are at 1/5th (16%) of the lockdown peak last April/May. Prospective tenants now have 84% less properties on the market to choose from.
What we're seeing at Umega
Here are some key points that we have seen and are responding to form the last month;
In Spring this year we had, on average, 160-170 homes on the market at any one time. Last week we only had 9 homes available on the market to rent.

In August, even though our available property list was depleted we still received 11,300 tenant enquiries

We received 626 enquiries in 1 week for 1 property showing just how competitive it has become for tenants
Rent levels are on the rise
It's been such a turnaround for the rental market in Edinburgh after a difficult 18 months. From a swelling market list and rent reductions this time last year to a very different picture now of scarcity of available rental homes and a scramble for those that come on the market. While we'd expect stock levels to gradually increase as we move into the winter months, with most students settled into their homes for the academic year, there's no doubt that there's not enough stock to satisfy a growing tenant demand and so inevitably, rents will rise.