As we move towards the end of 2022, we look back at the data relating to the rental market for Edinburgh (from Rightmove). The headline for 2022 relates to low stock levels. The number of available properties in the Edinburgh rental market, on Rightmove, has not been above 850 all year compared to last year where, for the first 6 months of the year, there were more than 1,000 properties available for rent at any given time.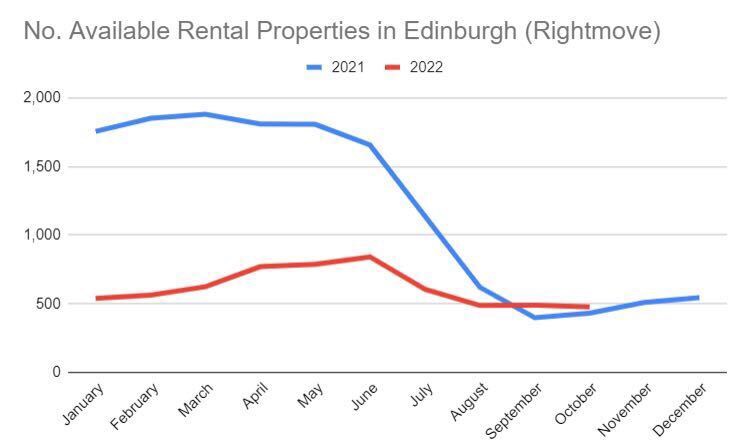 Available stock remains low
As every letting agency and home-moving tenant will know this year, the competition on the open market for rental properties has been fierce and practically unmanageable. The available stock levels have remained low all year and, over the last few weeks, the stock levels for 2022 have fallen into line with the volumes recorded in 2021. We're not expecting stock levels to significantly increase over the winter which means it is likely that the Edinburgh private rented sector (PRS) will start next year with very low available stock levels, again.
Less properties being added to the market than in 2021

There were 101 less properties added to Rightmove in the months of September and October in 2022 than the same period last year, a drop of 7%. Worryingly for tenants and agents, this indicates that the trend relating to reducing stock levels is getting worse and supports the argument that the overall size of the PRS is shrinking.
What will rising interest-rates do?
Rising interest rates are making mortgage borrowing more expensive and reducing the number of products on the market. This is wreaking havoc in the property sales market (dare we say a housing crash is under way?) which usually means more properties will come into the PRS but with that, more prospective tenants also.

To sell or rent?

With house prices likely to drop and fewer buyers in the market leading to properties taking much longer to sell, now is an ideal time to rent your property out instead of selling. Drop us a line for a no-obligation discussion about what the market is doing and your options relating to your property.