Interest rates continue to rise but major UK lenders cut mortgage rates

Following a 0.5% interest rate rise in July, the Bank of England applied a further 0.25% increase at the beginning of August, taking interest rates to 5.25%; a 15 year high. However, there have been some promising signs with most major UK lenders reducing interest rates on their mortgage products as a result of a drop in swap rates (inter-bank interest rates which lenders base their mortgage rates on) due to inflation easing. Mortgage rates are still well ahead of where they were a year ago but maybe, just maybe, this is reason for buyers and sellers to feel a little more optimistic.
62% more properties on the market this year

It's too early to clearly see the impact of this on the Edinburgh property market, however reviewing Rightmove data to the end of July, the number of available properties for sale continues to climb; it's now 62% higher than a year ago, meaning there's plenty of choice for buyers.
Reduced prices up 
It's clear that sellers are responding to the increased competition by reducing their pricing. The chart below has been on an upward trajectory since May 2022 and for the past 2 months there's been more monthly reduced price properties than there was during the two month period off the back of the mini-budget at the end of 2022.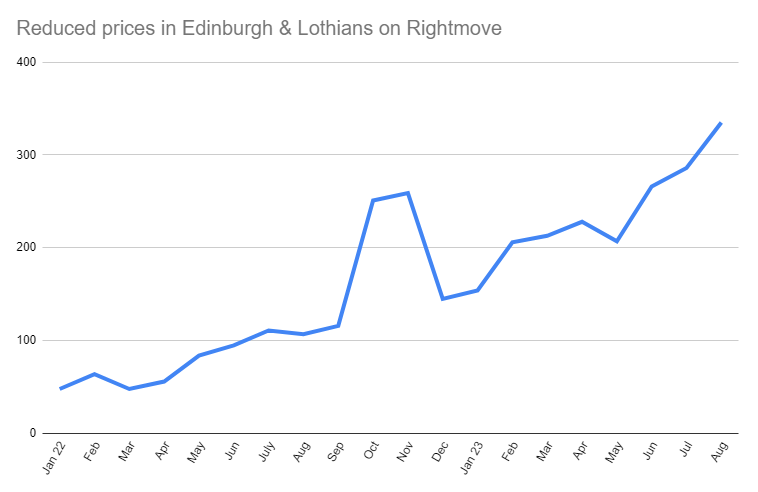 Increase in the number of Fixed price properties 
ESPC reported that there's been a 62% increase in the number of homes being listed for sale with a fixed price, which is unusual for Edinburgh; a market where the majority of properties are normally listed as 'offers over' (a strategy used to generate as many interests as possible, normally in a sellers market). ESPC also reports that only 29% of properties are reaching a closing date (normally set when there's multiple interests for a property) down from 38% last year. These are clear signs that it's a buyer's market.
The importance of pricing 
With plenty of choice on the market,, it's more important than ever for sellers to get their pricing strategy right. The evidence above illustrates how sellers, and their agents, are adjusting pricing to attract buyers. Every property and situation is unique so the pricing strategy must be specific for each. Contact our estate agency team on 0131 221 8289 today to discuss the best pricing strategy for your property and your specific situation.