The sales market in Edinburgh has performed strongly throughout 2021 and with demand from buyers still outpacing supply of new properties for sale, this trend is set to continue.
House Price growth in Scotland was 5.3% in October
According to Zoopla's UK House price index for October, annual house price growth across the UK is 6.6%, with Scotland at 5.3%. 
2021 is set to be the strongest year for sales and house price inflation since 2007 with £473bn of new sales agreed in 2021 (£95bn higher than 2020). Zoopla believes the impact of the pandemic has further to run with a continued strong sales market, albeit with a 20% decline in house sales to 1.2m sales in 2022. As it stands, there were 28% more buyers in September than the 5 year average and 22% of households say they wish to move within the next 18 months. This indicates the market is likely to be hot in the short term.
Demand has intensified due to reduced number of properties coming onto the market
Reports from ESPC focusing on Edinburgh and the Lothians are consistent with Zoopla's national viewpoint that, while buyer activity has increased, seller activity has started to slow down with a reduced number of properties coming onto the market. The number of property sales was 45.4% higher than the same period last year, while the number of properties coming to the market reduced by 31.1%. 
The average selling price across Edinburgh and the Lothians was up 2.5% year on year to £290,882, with variations of selling prices depending on property type and area. For example, homes in the south western suburbs of the city saw an eye-watering 26.2% increase in average selling price while city centre homes saw a 4.2% reduction. The market for larger properties is performing better than for smaller homes. 3 bedroom houses in Cramond, Barnton and Cammo are selling for an average of 109.4% of Home Report valuation, 9.4% more than a year ago. 1 bedroom flats in Abbeyhill and Meadowbank saw a 6.1% reduction in last year's rate, selling for an average of 102.6% of the valuation. In terms of selling times, properties in the city centre took 30 days on average to go under offer while properties in Cramond, Barnton and Cammo took only 13 days, 58 days quicker than the same period last year.
Sales agreed still holding up even with a lack of new stock coming onto the market
Looking into data available on Rightmove, we can see that the number of sales agreed each month has been fairly static over the last 3 months alongside the number of available properties being advertised for sale. This is consistent with the messages from Zoopla and ESPC that buyer demand is still strong with the number of new sales agreed being held back by the lower number of new properties on the sales market.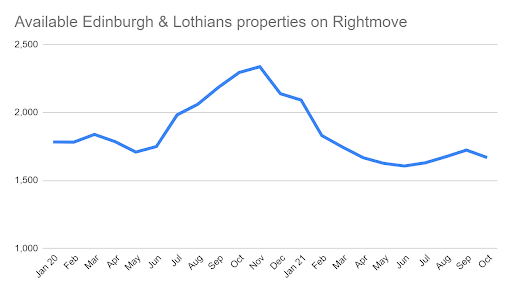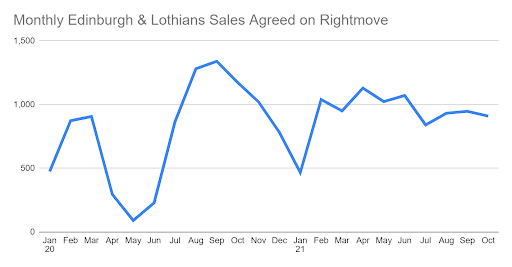 With the portals unanimously agreeing that the hot market conditions are set to continue well into 2022 before tailing off, it's definitely a sellers' market and so a good time to sell. If you're considering selling your property please contact our sales team on 0131 221 8289 or email [email protected] to find out how we can help. We make the process completely seamless and can have properties on the market within 5 working days.