Well, it's certainly been a turbulent couple of months for the property market, but after some relative stability the picture of 2023 is looking clearer.
Monthly sales agreed holding up
The number of monthly sales agreed on Rightmove is holding up fairly well against the backdrop of the political and economic rollercoaster. Monthly sales agreed has been very stable over the course of 2022 and specifically over the past 2 months, indicating there are still buyers in the market; those with mortgage offers, cash buyers and those with the immediate motivation to move.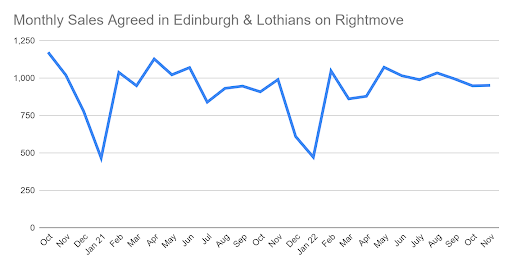 A rise in reduced price properties

One contributor to the number of monthly sales agreed is an increase in reduced price properties on the market. In November, just over 10% of properties in Edinburgh and the Lothians on Rightmove had their prices reduced; more than any month in recent times. We can also assume that new properties added to the market are not being priced as aggressively as they would earlier this year.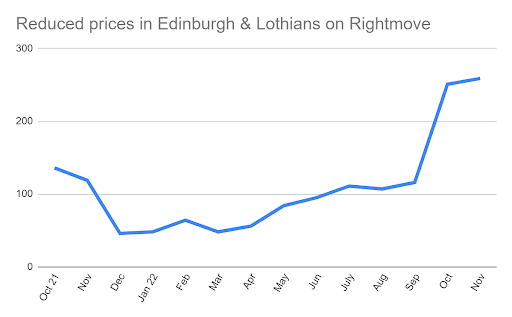 Available properties on the market creeping up

Even with monthly sales holding up, the number of available properties on the market has been creeping upwards; now at its highest level in over 2 years. The trend does look like it's flattening off slightly although this is likely due to many would-be sellers delaying putting their homes on the mark until the new year. Levels of available homes on the market have been so low over the past 2 years that the rebuilding of stock levels is a sign of a healthier property market, boosting buyer choice.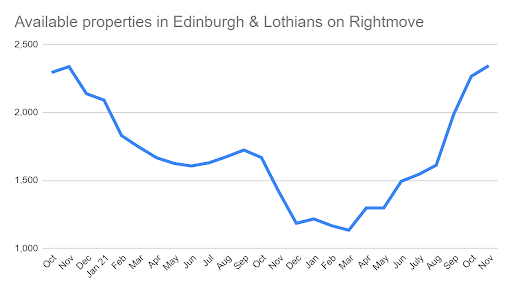 What's coming in 2023

The pandemonium that followed the mini-budget just a few weeks ago appears to have subsided and while we can't ignore the impact of mortgage rate rises on buyers and sellers behaviour, we're expecting a healthy level of transactions in 2023. After the initial shock to mortgage rates in October, some slightly lower priced mortgage products have appeared on the market again alongside some more positive news about what's ahead in 2023. This has led to many buyers and sellers rationalising this new 'normal' and so we expect many people to press on with their house searches and moves in 2023. With more stock on the market and with buyers affordability impacted by mortgage rates and increased living costs it's unrealistic to expect the sorts of high offers over valuation we've become used to in Edinburgh.
Mortgage rates are the key factor and should settle between 4 and 5% in 2023

Mortgage rates exceeding 6% have been the main factor behind the recent drop in market activity; however many now expect mortgage rates will fall back to 4-5% in 2023; a much more positive picture than we all feared just 4 weeks ago. Of course, this still represents a substantial increase in living costs for many people and so will affect buyers' ability to pay figures above valuation; however it's certainly not as bad as the 6%+ interest rates that many feared a few weeks ago.
We're ready to sell your home in 2023

Our estate agency team is ready to sell your home in 2023, offering our unique combination of market-leading property promotion with our award-winning negotiation team, motivated to get you the best possible price for your home. To find out more just contact our team at [email protected] or on 0131 221 8281 or start your journey by finding out what your home is worth via our free, online valuation tool.