Low numbers of properties on the market continue to make things difficult for tenants in Edinburgh
It's been a very choppy couple of months in the UK economy and housing market. The mini-budget at the end of September created panic in the UK financial markets and caused an immediate slowdown of transactions in the heated UK housing market when around half of mortgage products were withdrawn. Two months on, and with a new UK government in place along with an updated budget, the markets have settled down but with a higher interest rate than before. 
A lack of stock so rents continue to rise

Despite some excitement over the last few weeks and a few properties coming over from the sales market to be rented out, the overall picture in Edinburgh's private rented sector (PRS) is largely as it was. That is with a lack of available properties on the market, as illustrated in the chart below, causing rents to rise and tenants to struggle to secure a tenancy in an extremely competitive market.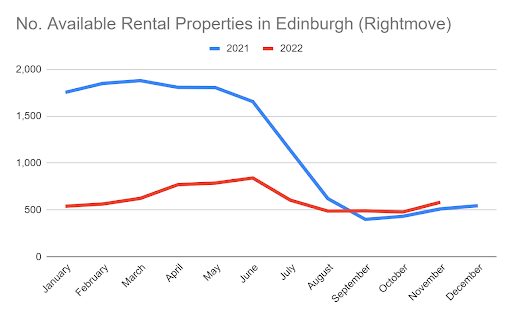 The number of short-term lets are decreasing

New legislation aimed at reducing the number of short-term lets, or holiday lets, in Edinburgh is working and some of these properties are coming over to the PRS be rented out long-term. The total number of properties on the rental market has increased slightly in November compared to the same period last year, but the difference is negligible.
The long-term outlook is that the shortage of rental stock will continue

With interest rates rising, it is becoming more expensive to obtain a mortgage. This will cause property prices to reduce overall and make it harder for first-time buyers to borrow the amounts needed for them to buy their first home. All of this will put pressure on the oversubscribed rental sector and it's not clear where the extra housing stock required is going to come from.
If you are a property owner considering renting a property out for the first time, there's never been a better time to provide a quality home to a professional Edinburgh tenant. Get in touch with us today on 0131 221 8280 or email [email protected] to get started.