Scotland is in lockdown but the property market is still open for business. Unlike lockdown 1, high numbers of new lets are being agreed and levels of activity are steadily rising. 
If you have an empty property that could be rented or you're letting with another agency that you would rather leave behind, then now is an ideal time to make that decision. The way we've adapted our working practices means that we can swiftly, safely and easily bring you on board as a customer and have your property rented out, regardless of how long this lockdown lasts.
1. Get the information you need to make a decision.
Most of this you can find on our website. You can run an online rental valuation of your property and you can get information on our fees and the letting process to help you understand better what's involved. Call us for a no-obligation chat about your property and your options so you understand all the costs and timescales. You'll then be ready to make a decision.
2. We'll safely visit your property.
We'll then make recommendations on anything that might be needed to get the property ready for the market. This can also be done over video call if you prefer
3. Online onboarding.
All of the contracts and checks that we make as part of bringing you on as one of our clients are done electronically and are quick, easy and remote so you don't need to leave your home!
4. High quality marketing.
We'll arrange a visit to the property to take wide-angle high quality photos, shoot the marketing video, get the floorplan measurements and the details we need to write an engaging property description for the ad.
5. On the market.
Once you're happy with the property advert, we'll publish it on all of the major marketing portals and start generating interest immediately from prospective tenants.
We can move at whatever pace suits you but all of this can be completed within a few days.
If you're wondering what to do with your property or considering a change of letting agency, get in touch with us today to get an idea of what's involved. 
It's much easier than you might think.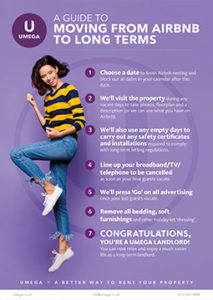 Read our guide on how to move from Airbnb to long terms