For homeowners considering selling their property in or around Edinburgh, there's never been a better time to sell.
There is huge demand for property on the sales market, properties are selling fast and we can have your home on the market within 5 days of giving us the go ahead.
More buyers than available properties
The number of properties on the market is at its lowest for at least 2 years and buyer interest is booming on the back of COVID restrictions lifting earlier this year. Homes are being snapped up quickly and prices have been consistently climbing as supply can't keep up with buyer demand. If you're considering selling your home then now is a very good time to do it.
Properties For Sale well below pre-COVID levels
Based on the data we have access to from Rightmove, the number of homes on the market peaked in November 2020 before dropping month on month from the turn of the year. Available properties slumped over the early summer months with stock levels in August down 23% on the previous year when the market swelled following lockdown 1.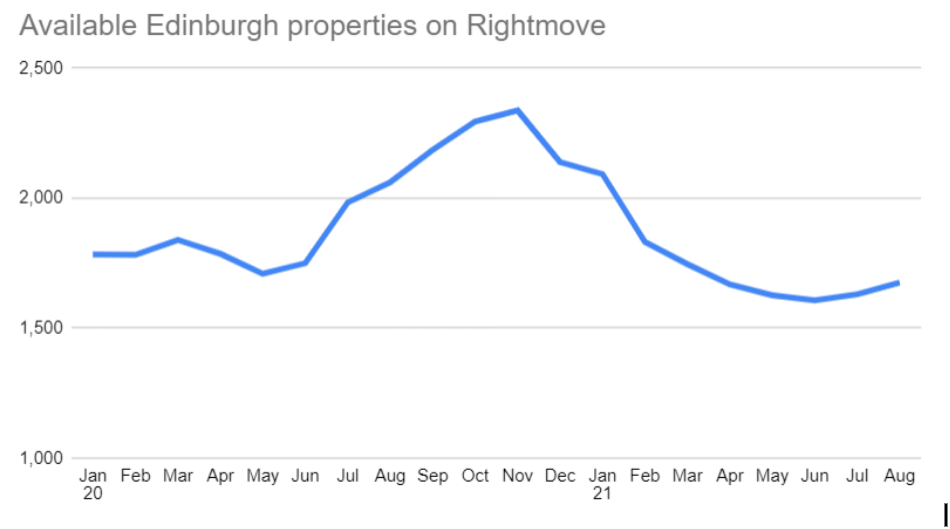 Available properties for the UK are down 26%
Zoopla's recent house UK Price Index shows a wider trend of a shortage of sales properties. The total available properties on the market is 26% down from a year ago and Zoopla say they expect levels to remain low into early 2022. A higher number of sales across the UK over the last year has eroded supply due to higher buyer demand. There's been a recent rise in activity from first time buyers and investors on top of the family home market which has been strong throughout the past year. House price growth across the UK is at 6% (against 2.3% in July 2020) and the market is moving quickly with an average of 26 days to agree a sale, way down from 49 days in 2019.
Reassessment of Home
Zoopla put these trends down to what they call reassessment of home resulting in a higher number of people making moves over the past year or so, with each move normally creating a purchase and a sale. First time buyers and investors have been more active in 2021 than in 2020 when lenders tightened credit criteria and interest rates were increased on many higher LTV mortgage products. As the chart below shows, First time buyers (FTBs) account for about a third of all buyers in 2021, inflated after a lack of FTB activity in 2020. Investor purchases have been 21% higher in 2021 than during 2020.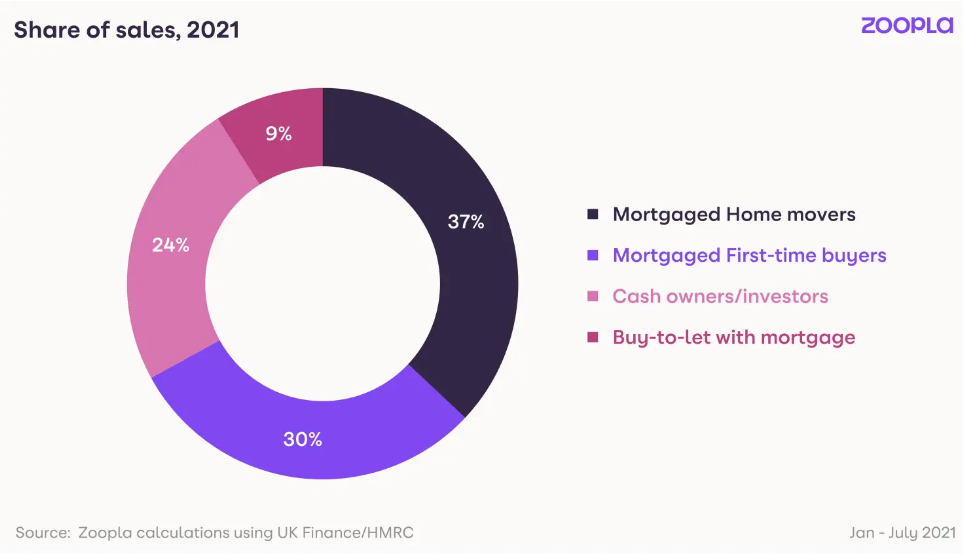 Now is the time to sell
This has created terrific conditions for selling homes in Edinburgh. Buyer demand is strong and stock levels are low. Zoopla expects the reassessment of home to continue into early 2022 creating further demand, however the low supply of homes on the market (particularly family homes and a limited choice for buyers) will lead to a natural reduction in buyer interest as next year unfolds. This will coincide with the ending of government support, leading to a slowdown of the market in 2022, a build up of available property levels and so a return to more normal levels of activity across the country.
We can have your home on the market in 5 days!
If you're a homeowner in Edinburgh interested in taking advantage of the current market conditions, don't hesitate; get in touch today to start the ball rolling.
We can have your home on the market within 5 working days including market-leading advertising on the main national portals and everything taken care of by our award winning customer service team.