Umega's not a property business,
it's a people business.
We are passionate about property but really, it's all about people; our customers, our suppliers and, of course, our employees.
Creating a thriving company culture is at the heart of what we do and as COVID restrictions begin to ease, we have some decisions to make about how we use our office space to support our culture.
As much as we've missed our office and each other, we know we don't want to go back to the way we were; sitting next to each other on phones and computers spending much of our time sending emails and making calls with customers and suppliers. We've realised that we can do that just as effectively working remotely, but we've also realised that we've lost something by not being in the same place each day.
Our company culture has changed during COVID and we're hankering to get back together, but what is the right balance of remote vs office working?
The best part of working at Umega is the people you work with and the family you're part of.
When we can spend time in the office again, we will, but it's going to be better than before. Our office is a place to come together, catch up, collaborate, learn and be reminded of what Umega is all about and what we are trying to achieve together. This involves: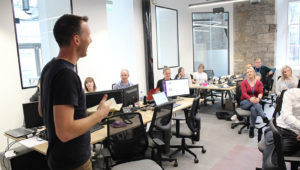 Socialising

through planned and unplanned get togethers.

Collaborating

in creative problem solving exercises. Video calls have taught us that creative collaborating happens best when we're in the same room.

Learning

from our shared experiences and from those that have been there before. This is often peer-to-peer or can be through sessions with more experienced people from inside and outside our business.

Reconnecting

with why Umega exists and what we're setting out to achieve. There's no substitute for being surrounded by extraordinary people who are aligned behind a meaningful, shared goal. It's motivating to reconnect with Umega HQ and with team members, to provide a reminder of what we're setting out to achieve and why we do what we do.

Celebrating

progress and milestones. This is so important, both personal and organisational achievements.
Taking "computer and phone work" off the list of reasons to come in changes the purpose of our office significantly.
The office becomes a more exciting and dynamic place to be.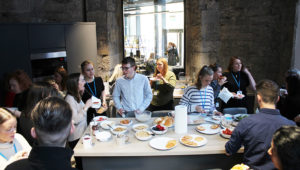 What does it mean for our team?
For the members of the team who can work from home and enjoy the benefits of flexible working, they're likely to be in our office 2-3 times a week for the reasons above. For the members of the team that don't have a great work set-up at home and need some space to "do work", there's dedicated space in our office where they can have peace and quiet.
The rest of our office space has been turned over to become a hub of socialising, collaborating, learning, reconnecting with others and being part of something bigger.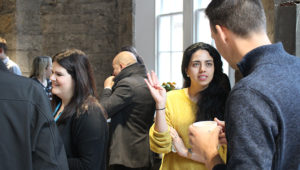 The new home of Umega is still at our previous address in Quartermile, but it's a different place.
The new environment for our team is fitting of the culture we're building and progress that we're making. 
Pop in and see us if you're in the neighbourhood.