In September we completed the purchase of an Edinburgh buy to let property on Broughton Road in Canonmills. Here's some more details to illustrate what's possible for those interested in buying their first Edinburgh buy to let property or expanding their portfolio.
Search – We were tasked with securing a buy to let property with a value of up to £160,000. Following our own advice on the  best locations for investing in Edinburgh property and concentrated on areas to the East of the City Centre; anywhere not too far away from the incredible Edinburgh St James redevelopment. We found some great options around Leith Walk and Canonmills we found some great options albeit there was fierce competition from first-time buyers.
Offer accepted –In June we had an offer accepted on a cracking ground-floor 1-bedroom property on Broughton Road. The property was valued a £145,000 but we had one offer accepted at £138,500. Broughton Road is a fantastic location and the tenement properties there are popular with professional tenants who see that it's just a short walk to the City Centre, the New Town, and the Botanical Gardens and Inverleith Park just around the corner. There's a handy Tesco store and ALDI on the doorstep and the cycle path runs right past Broughton Road to offer easy access all over the city.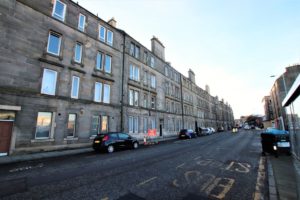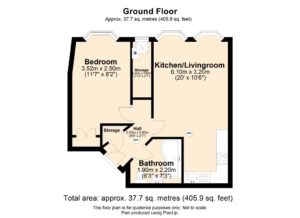 Refurbishment – The property was pretty 'tired' and in need of a good face-lift to bring it up to professional-tenant standard. Our brilliant maintenance team got stuck in right away and spent 7 weeks turning the property around including; new fitted kitchen, new bathroom with loads of storage, decoration throughout, new doors and other bits and pieces including bringing the property up to the required renting safety standards. Here are some before and after photos!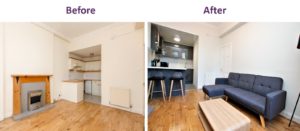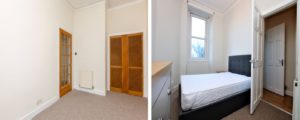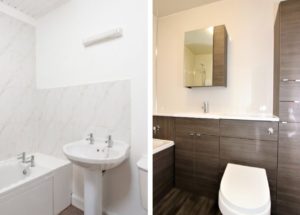 Letting – The property was passed to our fantastic lettings team who marketed it on all the main lettings portals and within two weeks they secured a lovely professional couple at a rent of £795pcm.
Finances – The property was purchased within a company due to the  tax benefits this offers and it was financed on a 75% LTV (Loan to Value) interest only basis.
From a quick look at property sales over the past couple of months we're delighted to see that 1-bedroom properties on Broughton Road have been going for upwards of £160,000 so all in all this looks like a great Edinburgh buy to let investment. If you're looking to purchase an Buy To Let Edinburgh, please get in touch to find out  how our investment team can help.
The numbers –
Purchase price – £138,500 (£145,000 valuation)
Refurbishment – £14,000
Furnishing – £1,800
LBTT – £0
ADS – £4,155
Legal costs and registration dues – £1,000
Capital Growth – 4% per year (read our blog on predicted capital and rental growth in Edinburgh)
Rent – £795pcm
Gross yield – 6.3%
ROI (Return on the cash invested) in year 1 – 48% (£27,140)