ANOTHER TOUGH SUMMER FOR TENANTS IN EDINBURGH COMES TO AN END
The rental summer in Edinburgh is over. The universities are back. Phew!
It's a huge relief for us and everyone else working in the letting industry as in the summer months, there are more than 100 tenants interested in every property we put on the market. The busiest weeks in the summer saw an average of more than 500 tenant enquiries per property listing. It's a desperate situation for tenants and a practically unworkable customer service task for agencies like ours. 
The latest data from Rightmove provides some positive news with the number of properties on the market growing and moving above the equivalent month in 2022, for the first time this year.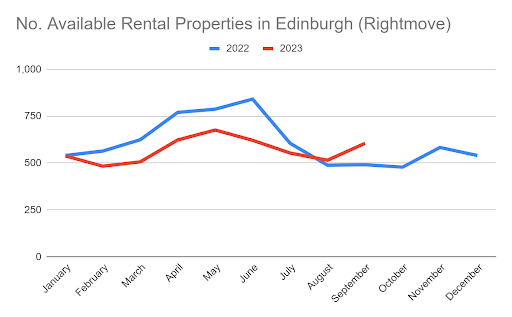 AVAILABLE STOCK LEVELS ON THE RISE
Despite the huge disparity between properties and tenants, the number of available rental properties is on the rise with just over 606 properties available in Edinburgh on Rightmove at the end of September compared with 492 the year before. This is most likely due to the slowing sales market where selling a property for a high price is not as quick and easy as it has been over the last few years. On top of that, the next stage of Edinburgh Council's restrictions on short-term lets came into force at the start of October meaning hundreds of ex-holiday lets are switching over to the long-term rental market creating some much needed additional stock for tenants.
GOVERNMENT LEGISLATION CAUSING UNINTENDED NEGATIVE CONSEQUENCES

The significant worsening of choice for tenants in the rental sector has coincided with market interventions by the Scottish Government. Rent freezes and eviction bans, that were introduced without consultation or compelling evidence, have led many landlords and properties to leave the sector and put off many potential landlords from replacing them. Higher interest rates have put financial pressure on landlords but restricted rents and stories of landlords stuck with tenants that they can't remove has led many to decide it's not worth the hassle, risk and additional cost. 
WHAT'S COMING NEXT?

The rental market has become an extremely difficult place for new tenants to access since the Scottish Government intervened with rent controls and eviction bans and there are more permanent measures on the way. Policy makers are fixated on going further to "protect tenants", but they are unwilling to accept any link between their new laws and the shortages of available rental properties on the market. There are big decisions ahead relating to permanent rent controls and minimum energy efficiency ratings for properties that are sure to have an impact on the size of the PRS in the future. 
Whatever new rules come into force, there will continue to be a huge demand for a functional and high quality private rented sector in Edinburgh for the foreseeable future. If you own a property in Edinburgh and are considering renting it out, get in touch with us today to discuss how we can help steer you safely and securely through the rental process.