HIGHER NUMBER OF PROPERTIES FOR SALE THAN WE'VE SEEN IN YEARS
During a month when interest rates were finally held following 14 consecutive rises since December 2021, it's clear from looking at Rightmove data that there's been a significant change in the Edinburgh residential property market.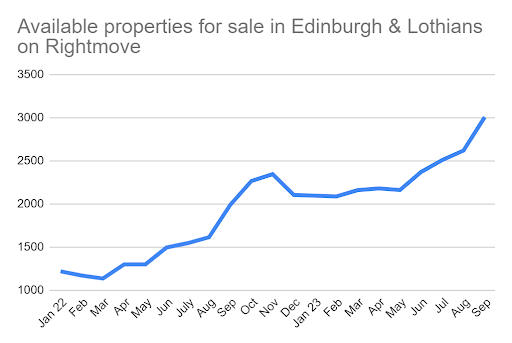 MORE PROPERTIES ON THE MARKET NOW, THAN IN YEARS, SHOWS A MARKET SLOW DOWN

New instructions to the market in Edinburgh on Rightmove were up 16% on July / August figures, rising after the summer holiday lull. However the number of monthly sales agreed fell, 20% down from the peak of the Spring market, with the resultant effect being stock levels increasing across the city. In September 2021 there were 1,724 properties for sale on Rightmove while in September 2023 this was 3008; a 74% increase in properties on the market for buyers to choose from. It's inevitable that an increase in stock levels, and so choice for buyers, leads to a market slow down.
SELLERS' TACTICS ARE CHANGING IN RESPONSE 
In September, the number of properties with price reductions per month continued to rise as sellers responded to such a competitive market. 386 properties on Rightmove had their price reduced during the month; that's almost 10% of all homes on the market and is a huge increase on the monthly average of 50 properties a month that was typical previously.
MORTGAGE RATES DOWN MARGINALLY IN RESPONSE TO INFLATION FIGURES

Mortgage lenders have been gently, steadily reducing fixed mortgage rates since late July, following better-than-expected inflation figures and further cuts are expected following last week's news on the interest base rate being held at 5.25%. If the interest base rate continues to hold and mortgage companies continue to respond by reducing their mortgage deals, buyer confidence will lift and lead to an increased number of buyers in the market. Stock levels will plateau meaning there will still be a healthy choice for buyers but with enough buyers to ensure there's healthy competition for good properties and so fair price paid in relation to home report valuation. That said, interest rates will remain higher than we've become used to in recent years so the shift in market conditions we're seeing will be here for some time.
If you're looking to sell your property through an agent that is proactive, has its finger on the pulse of the Edinburgh sales market and will make sure your property stands out in the crowded market, contact the Umega Estate Agency team for a chat about how we can help.