Like many organisations, when COVID-19 hit we were forced to shift to remote working, overnight. Since then our relationship with our office has evolved and what started out as a short-term need has turned into something of long-term importance.
In 2019 we moved into our new office
A brand-new 3,000sqft open-plan space in the heart of Quartermile. Our team was growing so we needed a new office fit for our needs. Somewhere that would be a fantastic place to work to help us attract the best customer service talent out there. A place that oozed character and where we could inject our values and purpose. Somewhere we could try new ways of doing what we do and where our team could perform to a high level every day. But really, as much as we saw ourselves as a dynamic business, we moved to the office because we were working 9-5 and we needed a 'place to work'. Even though we knew dynamic working had advantages, with small pockets of the team taking the odd day at home, we still really trod the 9-5 path, talking a good game but not really living and breathing a more dynamic approach to work.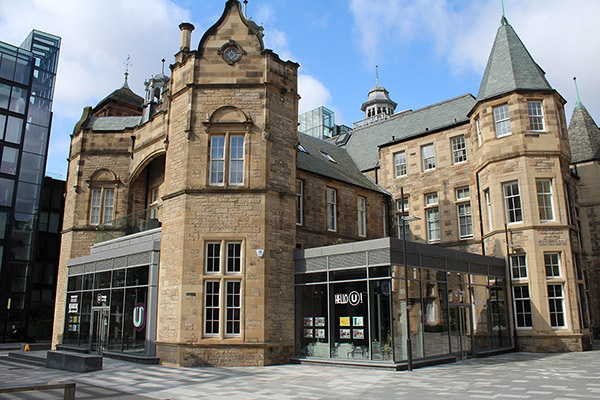 Then COVID-19 hit and we needed to keep doing what we do, remotely
It took something like COVID to push us over the line and to understand that we could run our business in a remote way. Of course, there were challenges but ultimately we were able to have everyone working at home, except a small skeleton team (to handle keys for essential tenant move-ins and repairs), and be just as efficient and continue to deliver a high level of service. Most of our landlord and tenant processes had already moved online in a drive to make our customers' lives convenient so in terms of service delivery it wasn't a scramble to set up new processes, these were already in place.
But we'd taken some things for granted
Working remotely presented challenges we didn't foresee relating to how much we used to get from being around each other every day. There was such a buzz in the Umega office; it was upbeat, it was positive, and we fed off that without really realising it. Suddenly we went to not seeing each other every day and so we had to find new ways to inspire and support each other which would have been taken care of naturally by being together.
A more meaningful purpose for our office is emerging
as the summer has passed and restrictions have been lifted, our customers' lives continue to move forward and there are reasons for the team to venture into the office. Something more significant is happening during these times; a new-found gratitude and appreciation for our office and for seeing each other. We have a dedicated space oozing with our character, our values, and how we do things – the same 'stuff' that we previously took for granted, but amplified. Our office is versatile, it's inspiring and it lends itself well to meetings. But not meetings in the traditional sense; meetings in the form of genuine interactions of affection, curiosity and human connection. The office has become a place to reconnect with those special relationships that make our business unique and we now value these relationships and interactions more than we could have predicted.
The office has also become a place for group get togethers or events
We've been able to assemble (socially distanced) groups for a number of reasons including an inspiring session with our Relationship Manager team which was a chance to get everyone together to share the experience of the past 5 months and to remind each other about the journey we've been on together. We also managed to bring a group of candidates together and were able to interview them in a socially distanced way in a group setting which was enlightening and allowed us to see how these candidates responded within our office and how they would fit with the rest of our family.
Looking into our future
Our office is no longer a place to 'work' or a place to respond to customers on the phone or over email. It fulfils a much more meaningful purpose in terms of the connections and inspiration it stimulates. It's a meeting place where we get together, reflect and remind ourselves what we're about. It gives each of us the encouragement and support to continue to do what we do, providing the fuel to go back out to our remote way of working, aligned behind our common purpose of improving the lives of our landlords and tenants. What started out as a short-term need has turned into being of much more significant long-term importance.