It's been almost 6 months since the Coronavirus pandemic took hold in the UK and turned the Edinburgh rental market upside down.
In March, when the universities closed and lockdown started, hundreds of tenancies all over Edinburgh ended or came under extreme financial pressure. This is reflected in the available properties on the market in Edinburgh (data taken from Rightmove) that, in the first month of lockdown, jumped to 57% higher than the available stock had been at the same time in 2019.
The flood of vacant and available properties on to the rental market was driven in part by some property owners switching over from holiday-letting in Edinburgh since this year's Festival was cancelled, but the vast majority of properties added to the available market were long-term rental properties where previous tenants had vacated at short notice due to the upheaval caused by the Coronavirus pandemic.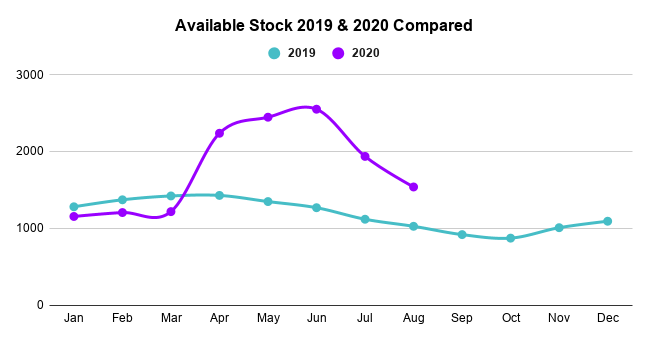 Available Properties Reach a High in June
As lockdown continued, the number of available properties on the market rose in May to 82% higher than in 2019 and June topped out at 101% where the available stock on the Edinburgh long-term rental market was more than double the level of June 2019.
Returning to Normal Stock Levels
Since then, the market has recovered rapidly. In July the stock levels were down to 73% higher than 2019 and today that figure is 50% – the lowest it's been since March. The recovery is clear and we expect this trend to continue. There are many more lets being agreed than properties being added as the available stock levels continue to drop closer to what they were in 2019. 
Rent Levels Recovering
As you might expect from more numbers of available properties, the average rent for newly rented properties in Edinburgh dropped during the peak-stock months. At Umega, the average rent for a newly let property dropped in April, stabilised in May and is continuing in an upward trend back closer to where the average rent level was pre-lockdown.
Looking Ahead
The data tells us that the rental market has recovered quickly and continues to do so. There is nothing in measures to suggest that the furlough scheme ending is going to create a repeat of March in tenancies ending and stock levels rising, but we're keeping a close eye on the data.