We've looked at the story that Rightmove data is telling us about the Edinburgh rental market. Citylets have just published their Q2 2021 rental market report providing more analysis of the Edinburgh rental market.
Rental market recovery
The rental market throughout Scotland recovered well towards the end of Q2 2021 as easing of restrictions continued. During Q1, Edinburgh rents saw an unprecedented fall of 6.9% year on year but they bounced back during Q2 coming close to where they were a year before (-0.6% lower than 2020); an average of £1,115/month.

Larger properties see the strongest recovery
During Q2, rents for smaller properties still lagged behind where they were a year before with 1 bedroom homes 3.7% down and 2 bedroom homes 2.4% lower than the same period in 2020. However, 3 and 4 bedroom homes recovered more quickly with 3 bedroom homes seeing a 3% increase on 2020 and 4 bedrooms up 1.8%. Compare this to -6.1% for 3 bedrooms and -17% for 4 bedrooms in Q1 2021 when these larger properties suffered due to a lack of students living in the city.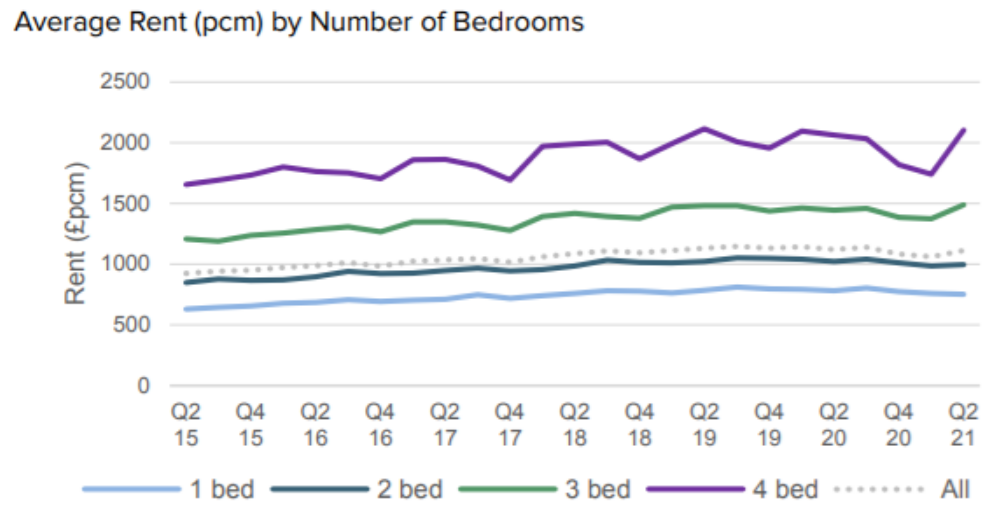 Properties letting much more quickly in Q2 2021
Focusing on Time To Lets the average TTL across all property sizes in Edinburgh during Q2 2021 was 38 days, with 4 bed properties letting the quickest in 33 days. This was a marked improvement on Q1 figures when the average TTL across all property sizes was 46 days.