Umega Offers Property Sales Service
Umega now provides property sales services to help customers sell properties.
We've spent the last 9 months testing our new service and successfully completed a number of sales for Umega clients in 2020. Umega's property sales service is now more widely available and we are looking to attract new customers.
We've developed a market-leading service that includes 3D virtual tours of properties, easy online client on-boarding & AML checks, an in-house property renovations service (if needed) and all fees & expenses communicated transparently and upfront. This is backed up by our award-winning team and unique customer-focused culture.
If you are considering selling your property, you can gather the information you need now to make a decision. Run a free and instant property valuation on our website and talk to a member of our team about what to expect in terms of the steps, timescales and costs involved and to understand what's happening in the market right now. We can provide everything you need to make a decision.
Selling your property is simpler than you might think.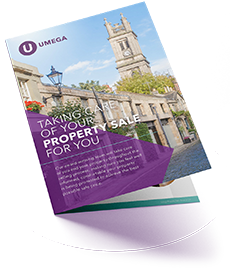 Download our brochure outlining the 12 steps to a successful property sale
Why use Umega?
Since 2007, Umega has become the leading property agency in Scotland via the more complex area of letting and property management. We've done this through building a team of customer service experts and creating the conditions for them to thrive. We've built an incredible team, a unique company culture and have earned a fantastic reputation as we've progressed as a business. We're now helping property owners who are looking to sell, tap into our experience and make use of our services & skills.